Our Indian beauty market has gone under quite a revolution since the past two years. There has been the launch of lip stains which are a hybrid of water and gloss, tattoo eyeshadows which serve as a good base beneath powder eyeshadows, creamy matte formula lipsticks, powder matte lipsticks, lipsticks with a transparent balm, foundations that can compete with high-end brands, innovative skincare and hair care products, real time beauty apps and much more. But we also have to admit that most of them were priced exorbitantly and caused a dent in our pockets. And after a point buying stuff which adds no value to our vanity boxes gets monotonous.
When it comes to lipsticks, I always get super excited about the ones that are launched at an affordable price tag. And if they are able to stay on my lips for long, it's like a treasure has been found! I don't know about you but I snack like every 2 hour. So I need my lipsticks to stay for longer. 
If you have been searching for long stay lipsticks in Indian market below Rs.500, the below list will surely help you:
1)
Blot the first application layer and go with a second one. Then, Give at least 20-25 mins for your lipstick to settle before you eat/drink.
2) Even when a lot of color has faded after some 4 hours, a strong stain is left on lips.
3) It's best to touch-up after a full meal or so. When you are touching-up for the third time, you are bound to notice flakiness. Just wet a tissue and remove the leftover lipstick on your lips. Pat transparent balm on your lips, blot it and then proceed with applying your lipstick. This hardly takes a minute or so. Don't do touch-up on flaky bits. It's an unflattering sight.
These are the budget options I included in my pictures:
UPDATE:
CAL Los Angeles Intense Matte lipstick
: They've a stiff texture, so it's best to apply them using a lip brush. They are extremely matte, stay for long without turning crumbly. One of the best long stay lipsticks in Indian market below Rs.500.
Organistick lipstick 13
: Creamy and hydrating yet lasting! I am surprised this made it to this list of long stay lipsticks in Indian market below Rs.500.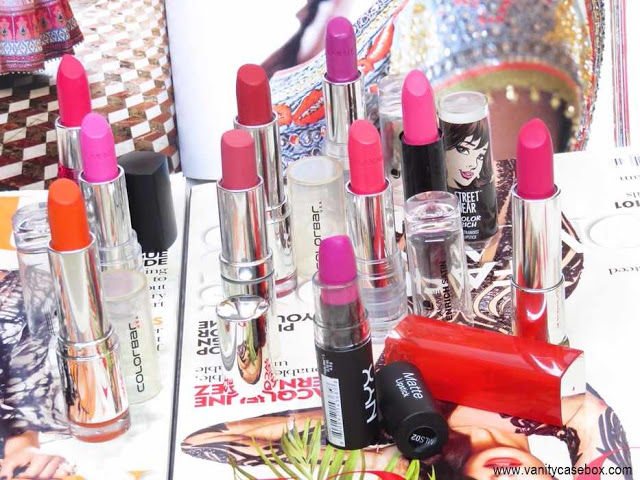 What are your favourite  long stay lipsticks in Indian market below Rs.500? Any option you like from this list?