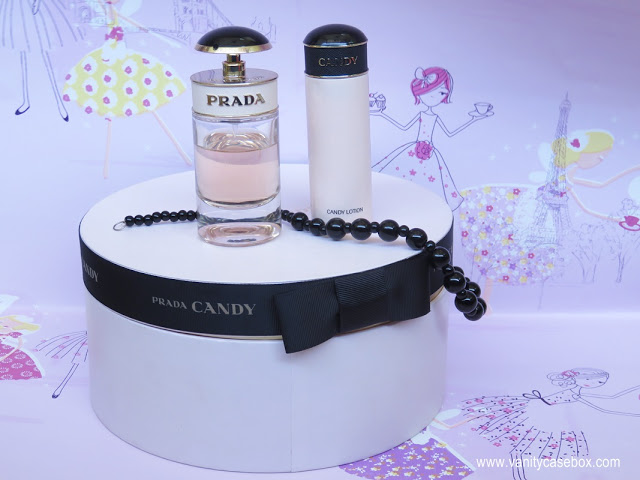 I went to buy Gucci Flora Magnolia Gracious Tuberose Perfume. I had a sample of it and fell in love with its scent! But then you know how shopping goes. You go with the intention of buying something and bring home something else! When I went shopping that day, I found good clothes (a rare sight in malls now!) with decent price tags and had to buy them. As a result of which I fell short on cash for my perfume purchase. And since my previous perfumes had finished all together, I had to buy one that day or survive without one for 10 days! The thought freaked me out and then began sample testing. 
And so I went ahead with this that came in a beautiful round pink box with bow! The bow didn't influence my purchase (Okay! Maybe just a bit! :P)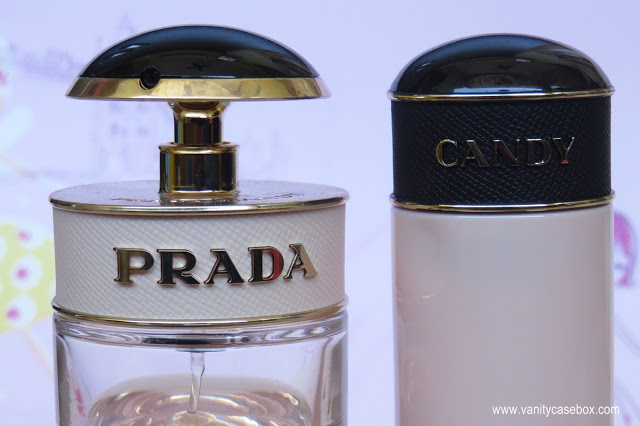 The box has Prada Candy L'Eau and lotion in an accompanying scent. 
Firstly, I have to admit that I love the packaging! Not just the box, but the bottles too! The leather design on them with PRADA golden letters looks gorgeous! The scent is sweet but not sickly sweet. I find it a soft caramel scent with citrus hints. And it hardly smells powdery. It doesn't stays on my skin for more than 3 hours. It's perceivable to me for another hour at maximum. Layered with lotion, it definitely lasts longer! 
For me, it is a fragrance that I can wear anywhere. 
Combining freshness and joie de vivre, Prada's latest fragrance evolved from the concept of a fictional young female character, Candy. Alluring and unexpected, pleasure-seeking and enigmatic, the many facets of Candy's personality reflect the range of notes that form Prada Candy L'Eau.

A trinity of white musks, benzoin, and caramel is heightened by the presence of citrus and Oriental floral notes to create a vibrant ensemble. Zestful, elegant, and indulgent, the spirit of the fragrance lies in Candy's optimistic view of the world.

Notes:
White Musks, Benzoin, Caramel, Citrus, Oriental Florals.
Style:
White Musks. Caramel.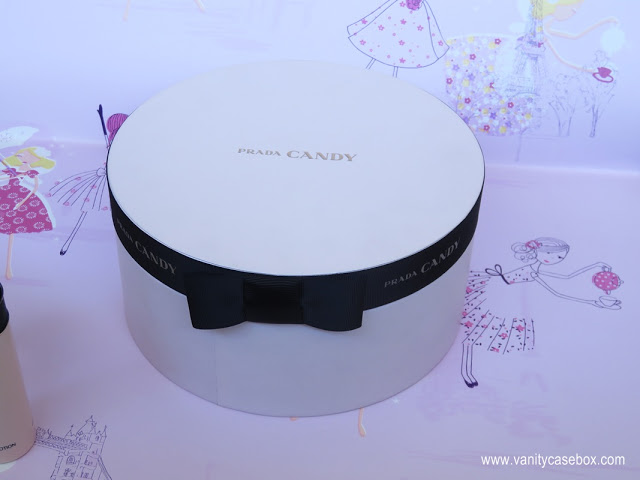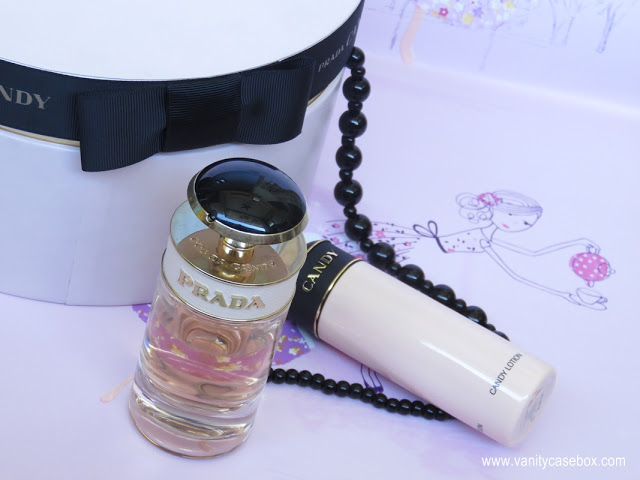 Price of this Duo:
For around Rs.4300 (From Lifestyle store)
Next on my list is Michael Kors Glam Jasmine Perfume. If you're a regular reader of my blog, you'll know my love for Jasmine and Mogra scents. I heart them! But I'm afraid that it might just remain on my wish list because it's too expensive! For around Rs.6300! *Takes a deep breath* Maybe if I can save Rs.2000 exclusively for it every month, I might become a proud owner of it after 3 months! My dressing table will look expensive with it……….Eeeeeeee! Wishes! 😀
What's on your wish list currently? Don't tempt me too much! 😛