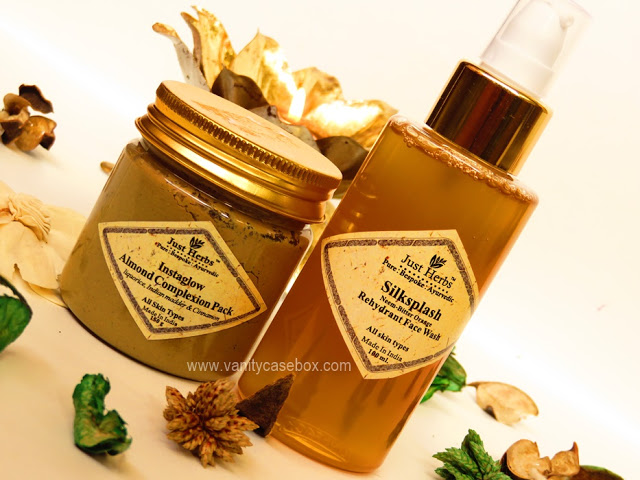 Today I am back with reviews of two products from brand 'Just Herbs'. I have already reviewed Just Herbs Anti tan rose face pack HERE. I had unfinished 5-6 face masks lying with me and I decided to finish at least 4 of them completely before I purchased a new one. I had to be quite strict on myself but it paid off! I now have space for my new masks! Hehe!
Just Herbs Silksplash Neem Bitter Orange Rehydrant Face Wash Review
Isn't the packaging pretty? I had been meaning to purchase a face wash free from sulphates, PEG/PPG and parabens. So when I came across it while shopping online, I instantly added it to my cart and bought it too.
The face wash is housed in a transparent plastic bottle with a pump, accompanied with a transparent cap. It's a gel based face wash and has a sandalwood-citrusy type scent which isn't bothersome. Since it doesn't lathers a lot, I have to use three pumps to get a clean feeling. However, it removes oil and dirt effectively from my face without drying it. I have used a lot of foam face washes in the past (reviewed on my blog too) since they removed oil effectively but after a few months, I realized that in the process of stripping off oil from my face, they only made it oilier with the passing of hours. Maybe it's one of the reasons why I am such a big fan of AHA Glow face wash (Review HERE).
 Unfortunately, it doesn't suit me. It gives a pimple every time I use it.
Remembering some past experience of mine with previous products, I wonder if neem suits my skin. I have hadn't a good experience ever with neem based products. Be it the Himalaya neem skin care range, Khadi neem face pack or Tvam neem face pack; each one of them gave me pimples! Yes! I think that's my culprit! Some things you realize while writing!
Just Herbs Instaglow Almond Complexion Pack Review
I love this face pack! Maybe you won't believe, but it has replaced my primer many-a-times in this scorching heat and has helped me in increasing the staying power of my makeup. No kidding!
The pack comes in a jar packaging and has a thick consistency. It spreads easily on skin and dries completely within 15 minutes. It washes off easily too and leaves a soft glow behind. There is no dryness caused by it which I feared might happen.
– It reduces the redness of blemishes on my face.
– It keeps my face oil free for a long time.
– Plus it reduces the occasional pimples on my face quickly.
Dry skinned people can thin the consistency of the mask by mixing it with raw milk, milk cream and honey. 
When I use it before putting on my makeup, my makeup lasts for a considerably long time. When it happened for the first time, I thought maybe there's an unnoticeable change in weather. But I tried it the same way 6-7 times and went outside with makeup without a primer, and it really did not disappoint! If it had some pore reducing properties, it would have given a serious competition to my primers.
Have you tried these? Any skincare product you are loving these days?