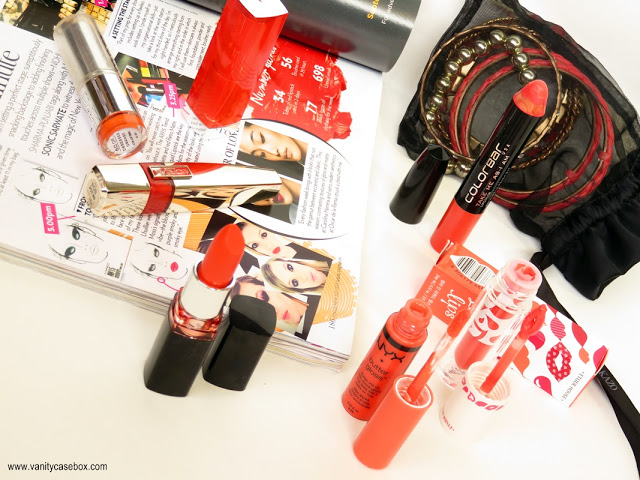 "Orange lips" were the it thing on runaways the previous spring and the trend went on so viral that even shy people (like me!) went on to try it! And needless to say, I totally fell in love with it! Of course at first it was hard for me to pull off this lipstick but I think I can now carry it well. Be it statement-making orange lips or translucent orange lips, you can't let summers end without donning orange lips. With some experiments, you will find one which will look great on you. And don't worry! The trend is still here to stay! Here are some Orange lipsticks I am fond of:
1)

       
Maybelline Color Sensational Bold Matte MAT 3:
This is my favourite orange lip shade! It is a bold Orange shade yet the hints of red in it tame it from becoming fiery. Review
HERE
2)

       
Etude House Color in Liquid Lips "OR205":
If you are all for full blown orange shades, this will surely make your heart aflutter! This one is not for the faint-hearted! Check it out
HERE
3)

       
L'oreal Paris Caresse Wet Shine Stain "804, Faye
": It is a muddy orange shade that can be worn even by those who are imitated by the power of orange. Or those who want to wear a subtle orange lippie to office. I worn it and fetched compliments. *Grin*
4)

       
Colorbar Take Me as I Am Lipcolor "Expressive Peach":
A bright coral orange shade which looks great even on medium skin tone.
5)

       
Colorbar Velvet Matte Lipstick "Obsessed Orange":
I'm sure that like many this was my first orange lipstick. I bought it then for Rs.275! It's not matte and not glossy and doesn't even make my teeth look yellow! Review
HERE
6)

       
NYX Butter Gloss "Cherry Cheesecake":
If you want a subdued version of a bright orange shade, then you must check it out. Review
HERE
7)

       
Maybelline Color Show Lipstick "Orange Icon":
Don't let the intensity of the bullet fool you because it is a wearable medium intensity orange with hints of pink.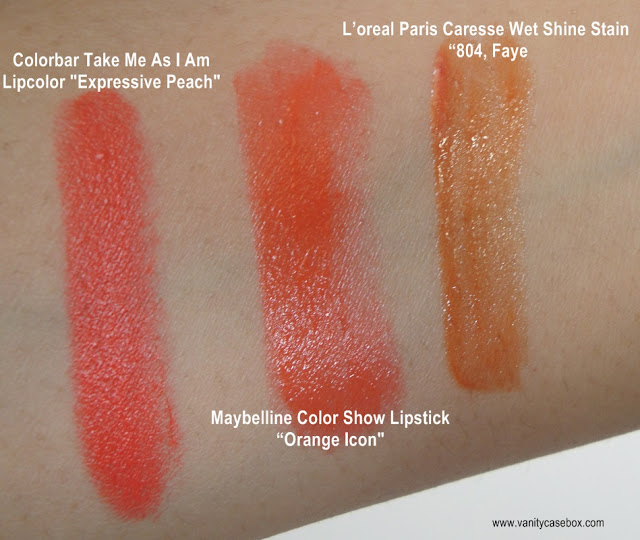 Which is your favorite Orange lipcolor?
 I just bought something inspired from the hottest jewellery trends. And the thing is that I didn't even expect them to be available in India for the price I bought them for. And when they arrived to me, I.. I just stared! I will show you soon! Any guesses?